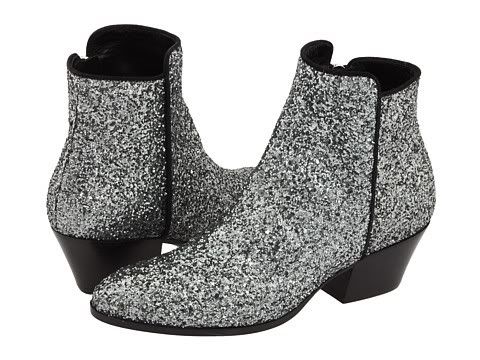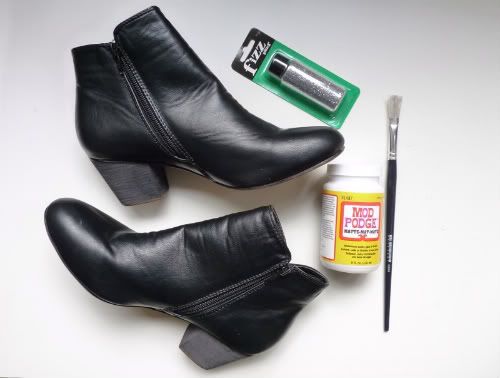 DID MYSELF A LITTLE DIY THIS WEEKEND. IVE BEEN IN LOVE WITH THE GIUSEPPE ZANOTTI GLITTER BOOTS FOR AS LONG AS I CAN REMEMBER, BUT 800 ODD AUSSIE DOLLARS IS A LITTLE OUT OF MY PRICE RANGE. AFTER SEEING A FEW DIY'S ONLINE, I THOUGH 'HEY, I CAN DO THAT!' AND SO I DID.
WHAT YOU'LL NEED:
A PAIR OF BOOTS/SHOES - WHATEVER YOU PREFER
MOD PODGE ALL SURFACE MATTE - I THINK YOU COULD USE PVA GLUE TOO
WHAT TO DO:
POUR GLUE INTO THE CUP AND MIX IN LOTS OF GLITTER SO THAT ITS REALLY THICK
PAINT BOOTS ALL OVER AND LEAVE TO DRY
ADD MORE LAYERS UNTIL THE SHOE IS COMPLETELY COVERED
I WORE MY BOOTS OUT LAST NIGHT AND AFTER SOME SERIOUS DANCING THEY'RE CRACKED A LITTLE IN SOME PARTS - I THINK THIS IS BECAUSE THE BOOTS I USED ARE PVC AND NOT LEATHER, SO I RECOMMEND USING LEATHER BOOTS IF YOU CAN, OR MAYBE TRY A FINISHING SPRAY.